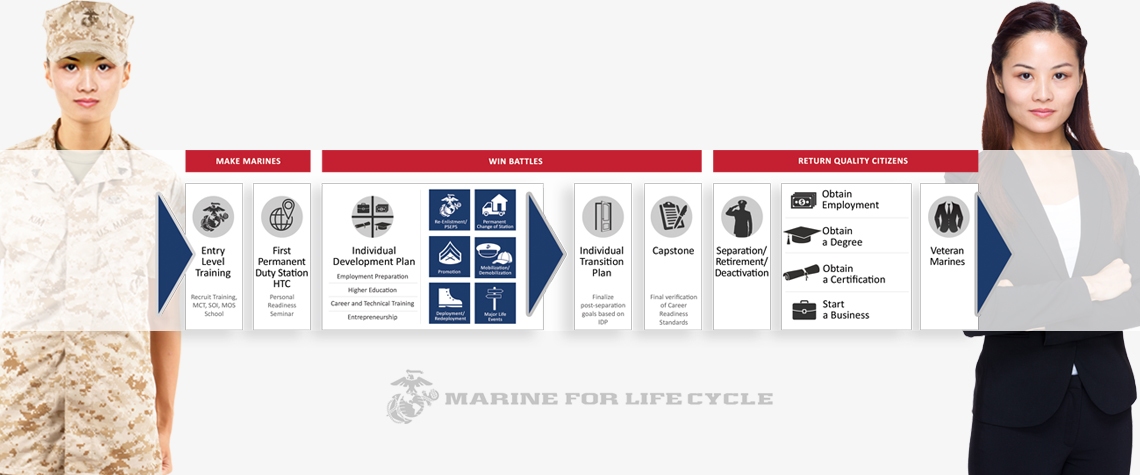 First Permanent Duty Station (PDS) Checklist
Congratulations and welcome aboard! You have completed your initial training and finally arrived to your new home at your first PDS. You are probably busy checking in to your new unit and exploring your new installation. You will attend the Personal Readiness Seminar (PRS) where you will discover the services available to you throughout your Marine Corps career. Just as you learned to orient a map during land navigation classes, you must also orient yourself in your new location. Work through the checklist below to ensure you start your Marine Corps career off on the right foot.
Attend the Settling in Services Brief (Welcome Aboard) – This is a mandatory brief conducted at every installation for incoming Marines (families welcome). This brief covers the services and programs available aboard your installation and in the surrounding communities.
Attend the Personal Readiness Seminar (PRS) – PRS must be completed within 90 days of your arrival to your first PDS. This seminar introduces you to the Personal and Professional Development (P&PD) programs available to you and covers a variety of personal finance topics.
Meet with a Personal and Professional Development (P&PD) Advisor – P&PD Advisors are committed to providing a full range of education, career, and transition services that educate, encourage and empower you and your family in achieving personal and professional success. They can assist you with completing a personal assessment to assist you with effective career exploration and planning and with developing and with developing your Individual Development Plan (IDP). It is important to develop your own IDP in order to have a successful and balanced personal and professional lifestyle. Think about what you want to accomplish, and how you plan to get there. You will learn more about this at PRS.
Meet with the Education Services Officer (ESO) – ESOs are available to assist and advise you on education and testing programs, the Joint Services Transcript, American Council on Education (ACE) college credit recommendations, Tuition Assistance programs (Financial Aid, GI Bill, Scholarships, and Grants), and preparing for the Leadership Scholar Program.
Online Academic Skills Course (OASC) and College Placement Skills Training (CPST) – Contact your ESO to decide if it would be beneficial for you to review your math and writing skills in order to improve job skills, pass exams, advance in your career or continue your education.
Explore Credentialing Opportunities On-Line (COOL) – COOL helps you find civilian certifications and licenses that are related to your military occupation.
Explore United States Military Apprenticeship Program (USMAP) – USMAP is a military training program supported by the Department of Labor (DOL) that provides the opportunity to improve job skills and complete civilian apprenticeship requirements while on active duty.
Meet with Your Command Financial Specialist (CFS) – The CFS is your unit's principal advisor on policies and matters related to financial education.
Update Your Address – Visit your local post office, or go online to update your address. You should also provide your unit mail room with address changes.
Update Your Insurance – Contact your insurance provider to update location of vehicles, as well as your personal property coverage. Any vehicle that does not meet the state insurance requirements will be denied registration.
Visit MyPay to Update Your Leave Earnings Statement (LES) – Update Federal and State Income Tax to reflect home of record or changes in withholding/exemptions. MyPay is the accounting firm of the Department of Defense (DoD) which service members, military civilian employees, and retirees can access to resolve various pay issues.
Register Your Vehicle – Ensure your vehicles are properly registered for base access.
Consider Investing in the Thrift Savings Plan (TSP) – The TSP is a retirement savings plan for United States civil service employees and retirees as well as for members of the uniformed services. Contact your Personal Financial Manager (PFM) for assistance in setting up automatic pre-tax deductions from your paycheck.
Remain Competitive for Re-enlistment or Promotion- Complete the PME requirements for your current rank. The Marine Corps Training Information Management System (MCTIMS) guides Marines on career training and education requirements, tracks training completions, and includes information on training standards and MOS Roadmaps to learn the steps necessary to achieve a high level of MOS proficiency and other recommendations for further enhancement training.
Contact Transportation and Household Goods – To help you get organized, the Defense Personal Property System has streamlined the moving process with their website Move.mil.
Visit the Military Installations (MI) Website – The MI website will provide you with lots of information regarding your new location.
Create Your Family Care Plan – Having a Family Care Plan is mandatory and ensures your family is taken care of during times of drills, annual training, mobilization, and deployment. Discuss your plan with your PFM and Base Legal Office. Complete form NAVMC 11800. LifeSkills Training and Education offers courses to assist you in completing your Family Care Plan.
Single? Participate in the Single Marine Program (SMP) – The SMP exists to improve the quality of life for single Marines. The program plans recreational, social and volunteer events.
Family Members?
SemperFit – Locate the fitness facilities aboard your new installation and speak with the SemperFit team to see what resources are available at your new location.
Visit Your Local Base Library – Library resources and services are available to Marines and families on board all USMC installations and online 24/7/365. The online databases provide academic research, professional and recreational material including databases covering academic, research, health, criminal justice, web-based foreign language lessons, over 200 digital magazines, over 500 online self-improvement and lifelong learning classes, and thousands of streaming films for informational and recreational use.
Marine and Family ProgramsMarine and Family Programs provides assistance with services such as relocation, employment opportunities, financial education, personal skills-building classes, deployment planning, volunteer opportunities, outplacement assistance and assistance with crisis situations.
Information and Referral Specialists provide information on programs and services for service members and families. They maintain a database of base and community resources and will make appropriate referrals to internal or external military and community agencies.
The Personal Financial Manager (PFM) – The PFMs provide financial education and training on money management, debt and credit management, savings, investing, and retirement planning. Plan to register and attend various workshops such as Car Buying, Budgeting and Saving, and other topics to support your personal financial fitness.
The Family Member Employment Assistance Program – This program provides military family members with the tools they need to successfully search for employment. Resources include career exploration, resume writing, job search skills, interviewing techniques, and career assessments.
Family Advocacy Program (FAP) - FAP provides a variety of programs and services to military members and their families to enhance life skills and improve their quality of life. Support resources include information on spouse/intimate partner and child abuse, victim advocacy, counseling for individuals, couples and children, as well as classes on stress, anger management, domestic violence, communication and conflict resolution skills, and positive parenting.
Verification of Military Experience and Training (VMET) - Select the link to read more about the VMET (Verification of Military Experience and Training), DD Form 2586, and how it documents your military career and training.
Joint Services Transcript (JST) – The JST is a military service transcript showing American Council on Education (ACE) credit recommendations for military training and college courses. Contact your ESO for assistance.
L.I.N.K.S. (Lifestyles, Insights, Networking, Knowledge & Skills) and LifeSkill classes - The L.I.N.K.S. program offers an orientation to the Marine Corps lifestyle, helping spouses, Marines, children and teens, and parents/extended family members understand and adapt to the unique challenges military life often presents. L.I.N.K.S is a resource of Marine Corps Family Team Building (MCFTB).
Children?

Contact the New Parent Support Program (NPSP) – NPSP provides parenting education, support and assistance to expectant parents and parents with children ages 0-5. Services include group parenting workshops, baby boot camp, and individual family home visits.
Check out the School Liaison Program - The School Liaison supports Marine families by advocating on behalf of the family to optimize the educational experience and transition of elementary, middle and high school students in local school districts.
Check out Children and Youth Programs – Children & Youth Programs Resource & Referral offices can assist you in starting the enrollment process to ensure your children have a safe haven for recreation activities, and before and after school programs.

Family Members with Special Needs? Check out the Exceptional Family Member Program - EFMP supports Active Duty Service Members and families to ensure that they are assigned to Duty Stations where services exist to support the EFM with Continuum Of Care, ensuring access to and availability of medical and educational services.
Base Legal Office - Military installations have legal assistance offices available to assist you with legal matters such as will preparation, powers of attorney, contract review, debit/credit problems, landlord/tenant issues, family law, tax law and estate planning. All of these services are a no-cost benefit to you for your active duty service.
CREDO - The Chaplains Religious Enrichment Development Operation (CREDO) is a retreat program that supports Marines, Sailors, and their families with high-quality, evidence-based education and enrichment opportunities focused on marriage and family relationships, character-building and personal growth, unit cohesion, individual and corporate resilience, moral and ethical decision-making, and crisis intervention skills development.
Information, Tickets and Tours (ITT) - ITT is your one-stop, fun shop for discounted tickets to the movies, museums, zoo. Theme parks, sporting events, water parks, festivals, theatre, concerts, and more. They are located at every installation and offer tickets for your round attractions, seasonal attractions, and sites all over the country.
Military One Source is a confidential Department of Defense-funded program providing comprehensive information on every aspect of military life at no cost to active duty, National Guard, and reserve members, and their families. As a virtual extension to installation services, information provided includes, but is not limited to, deployment, reunion, relationships, grief, transition, parenting, and childhood services. Comprehensive education and career exploration services are also available at no cost to all eligible military spouses through the SECO career center.
Navy-Marine Corps Relief Society (NMCRS) – NMCRS provides financial, educational, and other need-based assistance to active-duty and retired Sailors and Marines, their eligible family members, and survivors.